Last Updated on June 21, 2021 by MyGh.Online
Jerry John Rawlings, a Ghanaian military commander and politician, was the country's president from 1981 until 2001, as well as for a brief stint in 1979. He headed a military junta until 1992, after which he was democratically elected President of Ghana for two years.
JJ Rawlings was married to Nana Konadu Agyeman and had four children with her: three daughters and a son (Zanetor Rawlings, Yaa Asantewaa Rawlings, Amina Rawlings; and Kimathi Rawlings). Though several people surfaced shortly after JJ Rawlings' death, claiming he was their biological father, the four children from Nana Konadu are the only known offspring of the late JJ Rawlings.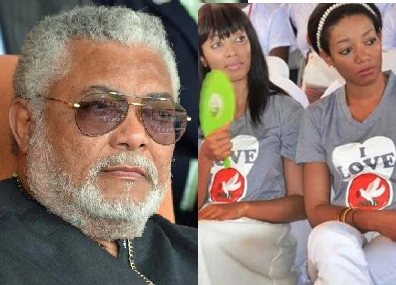 Zanetor Rawlings.
Zanetor Rawlings is the first child of Nana Konadu Agyemang Rawlings and the late JJ Rawlings. Zanetor is an Ewe name as well as a command name. In Ewe, Zanetor means "darkness must end." This name was given to her amid a terrible moment in Ghana's history, when the country was wracked by corruption and economic suffering, and JJ Rawlings used it as a command: "The economic hardship and corruption must end."
Zanetor Rawlings is a medical officer and the Member of Parliament for the Greater Accra Region's Klottey-Korley Constituency.
Yaa Asantewaa Rawlings.
Yaa Asantewaa was the name of JJ and Konadu's second child. The name is Ashanti in origin. Yaa Asantewaa was named after Queen Mother of Ejisu-Yaa Asantewaa, who led her people to battle against British colonial authorities when the Ashanti Kingdom's king was banished.
Yaa Asantewaa Rawlings received her bachelor's degree and master's degree from the University of Dublin in Ireland. She worked as a Business Affairs Executive in former President Rawlings' office.
Amina Rawlings.
Former President JJ and Nana Konadu Agyemang Rawlings have a third child, Amina Rawlings. Amina is a name from the Arabic language. She was called after the queen of Zaria (modern-day Nigeria), who was the first woman in a male-dominated civilization to become a monarch.
Amina is a member of the International Bar Association, the Chartered Institute of Arbitrators, the AIPN, the UK Energy Lawyers Group, the LCLCBA, and the Scottish Oil Club. Amina graduated from the University of Dundee with an LLM in Petroleum Law & Policy – CEPMLP. Amina Rawlings has been an attorney for almost 10 years.
Kimathi Rawlings.
Jerry John Rawlings and Nana Konadu Agyemang Rawlings' last child is Kimathi (Kimathi of Kikuyu extract of Kenya). Dedan Kimathi, a militarily inspirational commander who led his people in many uprisings…leading up to the independence war against the British colonial authorities, was the inspiration for Kimathi Rawlings.
North Ridge Lyceum and Morning Star School were his primary schools. Aston University in Birmingham, England, awarded Kimathi a Bachelor of Science (Bsc) in International Business. Kimathi now resides in London and works for Eni, a multinational oil and gas corporation, as a Commercial and Portfolio Advisor.