Last Updated on September 21, 2020 by MyGh.Online
The Ghana Police Service will be embarking on a march on the streets of Accra on Monday, September 21, 2020.
The exercise, according to the Service, is a "confidence building march" aimed at assuring the general public of its preparedness to maintain law and order before, during, and after the December 2020 polls."
In a press statement dated September 20, 2020, and signed by the Superintendent of Police, Mrs. Sheilla Kessie Abayie-Buckman, the Service said they will seize the opportunity to "display Police resources like ambulances, trained dogs, and amoured vehicles."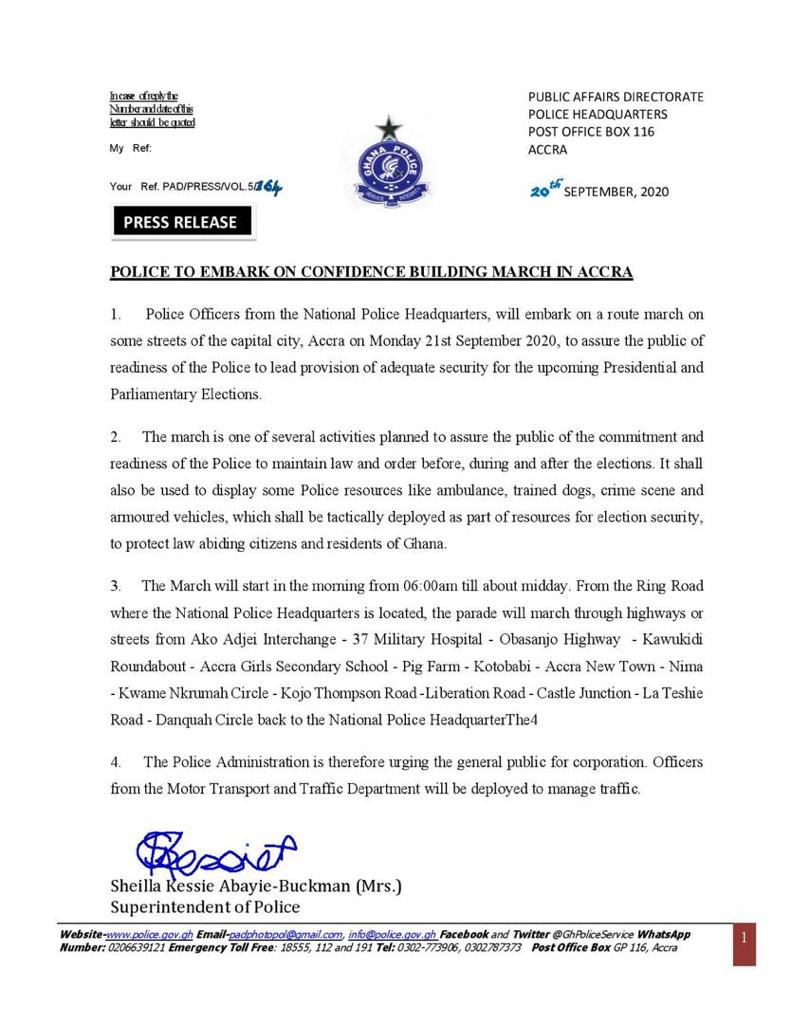 The parade, which begins at 6:00 am, will see the personnel set off from the National Police Headquarters on the Ring Road, through the highways or streets from Ako Adjei Interchange to the 37 Military Hospital.
From there, the force will head towards Obasanjo Highway, Kawukidi Roundabout, Accra Girls' Senior Secondary School and Pig Farm, Kotobabi.
Other routes earmarked for engagement include Accra New Town, Nima, Kwame Nkrumah Circle, Kojo Thompson Road, Liberation Road, La Teshie Road, Danquah Circle, and then back to the National Police Headquaters, where it is expected to end.
The Police administration also announce that Officers from the Motor Transport and Traffic Department will be employed to manage traffic in these areas and therefore urge the public to cooperate.
Source: www.myjoyonline.com