Last Updated on August 24, 2021 by MyGh.Online
More details about the tragic killings at Abesim in Ghana's Bono region have emerged. The circumstances surrounding the murders of the victims by Richard Appiah are mind-boggling. 
Richard Appiah, who is twenty-eight years old, has so far killed three people, according to the police.
Two of his victims are teenagers who were essentially innocent and could not have caused any problems for Richard Appiah in any way. He became their role model, and they would follow him everywhere he went. He generally takes them to his house because they are all football fans. 
Stephen Sarpong, 12, one of the teenagers, had been missing in the neighborhood for almost a week, and his father, Mr. Asiamah Yeboah, had been searching for him with the suspect, Richard Appiah.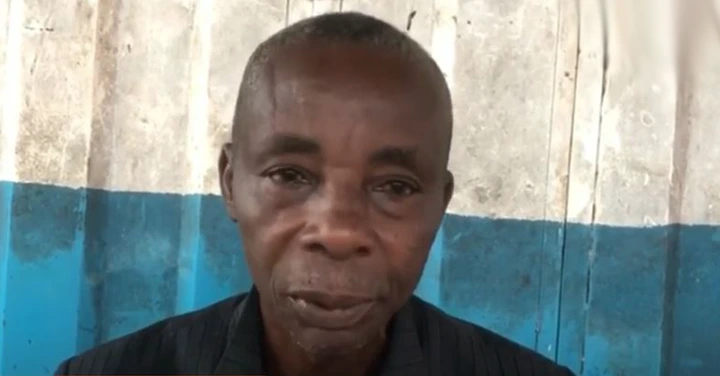 Mr. Yeboah Asiamah, who works as a statistical control officer for the National Disaster Management Organization (NAMDO) in the area, was with his son when he mysteriously vanished. They've all been hunting for young Stephen Sarpong since the suspect, Richard Appiah is close to his family. After several days of not seeing him, a formal complaint was filed at the police station, and the matter was taken up by the criminal investigations department.
However, the suspect had previously told Mr. Asiamah that he had land that he wanted to sell. The two came to an agreement on the price of the land, which was GHC 10,000. In the midst of the search for the missing small kid, the suspect went to Mr. Yeboah Asiamah's house and demanded GHC 10,000, which he collected and fled.
Mr. Asiamah received word the next day that his son's remains had been discovered in Richard Appiah's refrigerator. He didn't believe it until he saw the evidence, which included the suspect's refrigerator being opened and the NADMO worker's son being sliced up like meat and stored in rubber. For the entire family, the situation seemed unbelievable because the suspect had been supportive since their kid went missing, and no one suspected him of murdering the young boy.
He had already slain the young boy while selling the land for GHC 10,000, but he still stared into the father's eyes and took the money. This is a fantastic illustration of the adage that "the enemy is constantly near us." Mr. Yeboah Asiamah's adversary was dining with him, but he had no idea. Let us all be cautious of the persons we refer to as friends.