On Twitter, a woman shared a story that she should never forget. The story revolved around an incident she had when she went to see a man, and what transpired that day was unexpected.
According to her, she went to meet a guy and the two of them were having a good time, smiling and chatting about various topics.
Because he was a good guy, he offered her something treats to eat, which was a bowl of cornflakes. She happily accepted it and thoroughly loved it.
What happened after she finished her cornflakes was something the man had not anticipated. After emptying the bowl, this lady poured the water into it and drank it.
The gentleman then told her to return home with the bowl, and she was commanded to remain silent until she had left his home. In her own words, she penned the following:
"I once visited this guy, we gisted, laughed & then he offered me cornflakes, as I drink am finish I poured water inside the plate, stirred and drank it, omor, d look on his face ehn, he now told me that I can go with the plate. Till I left his house with the plate I never said a word."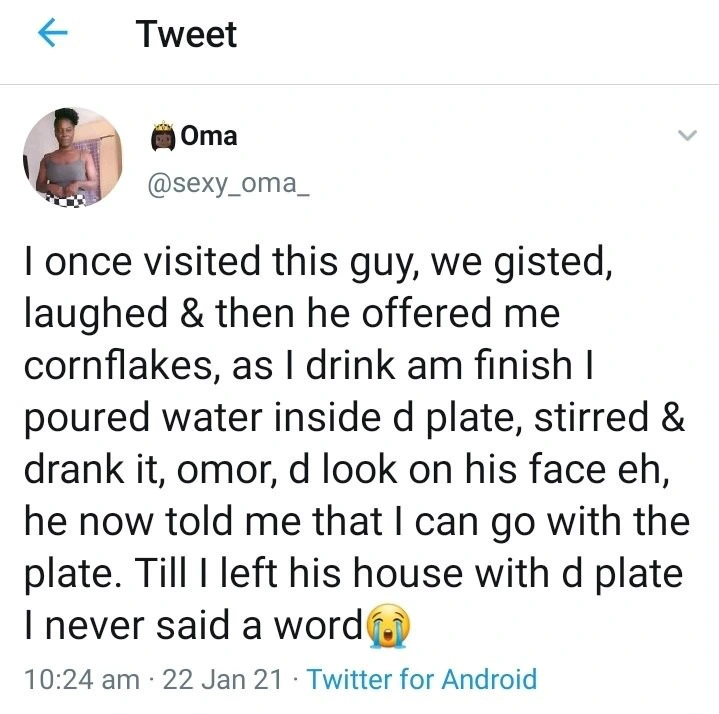 ---
Following her tweet, a great number of people flocked to her comments section to share their thoughts and experiences that were similar to those she recounted. Take a look at how people reacted to her article in droves: