Man who cursed Nana Addo with eggs and schnapps lands in the hospital
Information reaching us is that the man who cursed President Nana Addo with eggs and schnapps during the fixthecountry protest has currently being admitted to the hospital.
Despite the fact that many people do not believe in such things, a few people have testified to the reality of cursing people with eggs and schnapps.
Many Ghanaians considered Nana Addo to be a curse. Women of a certain age were spotted sitting on the floor cursing the president. Following that, there were signs that shamed and called out Nana Addo.
Justice is said to have brought eggs and schnapps to the rally grounds, as well as cursing the president.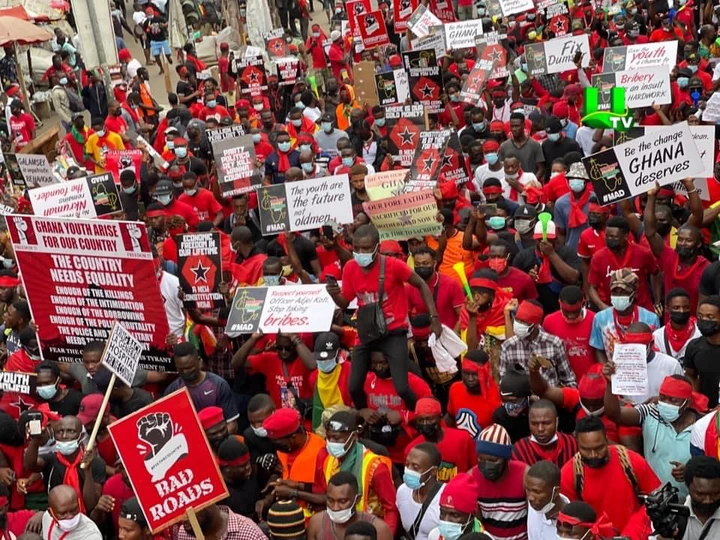 He said he had suffered a lot under Nana Addo's leadership and as president, and that he used the rally to express his rage and resentment.
According to information reaching us today via social media, justice was admitted to the hospital the day after the rally and has yet to come home.
Meet the man of God who wanted to be like Jesus; fasted 40 days/40 nights
Some religious zealots made it a challenge to follow in the footsteps of their Lord and Personal Saviour, Jesus Christ, who fasted for forty days and forty nights, as the Bible claims, and this statement is truly accurate.
In Hosea 4:6, the Bible tells believers, and in Isaiah 5:13, the Bible says, "My people are in captivity because they lack wisdom."
Evangelist Chidi Eke, a 46-year-old pastor from Eziala Nguru in the Ngor Okpala council area of Imo State, Nigeria, died to sufferings after fasting for 40 days and nights.
According to the information gathered, the believer, who had left his wife and two children in Lagos and returned to the hamlet, engaged in evangelism efforts in order to spiritually strengthen himself and then went into the forest to seek God's face and might.
One of the preacher's members went to check on him in the jungle where he had arrived and discovered him dead. He is his mother's sole child.
Another religious imposter was Mr. and Mrs. Omosebi, who live in the United States of America and decided to fast for 40 days and 40 nights with his wife, as well as their young daughter, who died during the process. They were charged and condemned in court.
Another Ebonyi believer, Ikechukwu Oke, a teenager, fasted and prayed for 41 days on a mountain in Abakaliki. The mother, Mrs Elizabeth Oke, spoke about the factors that may have pushed him to go without food and water for so long.
The mother enquired of his son why he had to fast and pray without informing her, and he said that he chose to fast because of the state of our family. During such fasting, he was supposed to drink water or eat fruits.