Micheal Morris Bassey, prophet and founder, "Victory is Sweet Ministries " has been picked up by the Cross River State Police Command for alleged possession of a human skull, threat to life as well as possession of charms.
The Fake man of God was apprehended following a complain to the police by a victim ( whose whose life was once threatened by him).
Bassey, 45, was caught in the possession of a so called "covenant " box placed at the altar in the church which had the picture of the informant tied to a human skull, effigies, as well as other criminal charms – according to reports.
The Commissioner of Police, CP Sikiru Akande, on Tuesday, Akande affirmed the reports and also commended the courageous neighbors for assisting them in the battle against crime through the supply of verifiable information and other kinds of collaboration.
"The suspect was apprehended with a human skull tied to the complainant's picture and a carved human image dressed in red clothing," Mr Akande indicated that the investigation was still ongoing and the suspect would be arraigned in court.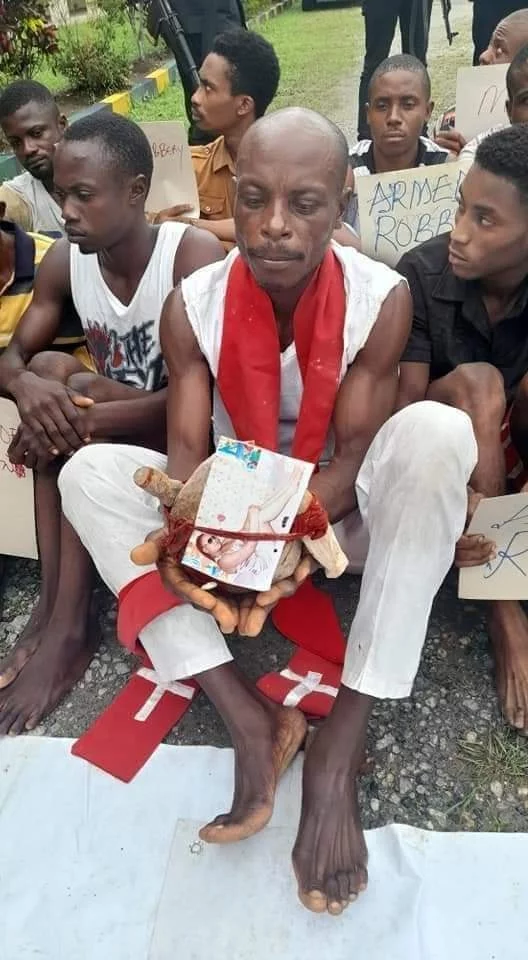 Morris Bassey, on the other hand, said at a press interview that he has nothing to do with the claims made against him. "I am a prophet, I don't know anything about the skull. I began by freeing my family, who had always "sacrificed" their male offspring to ensure the survival of their female children; I broke that covenant and have been releasing others in Cross River and beyond; I am not a murderer; I just assist people," he is reported to have said.
However, Micheal Morris Bassey together with his accomplices is still in police custody and will be arraigned before the court while an investigation is underway.