The COVID-19 epidemic has affected all aspect of society, from our schools to the church and the economy in general. The threat presented by the virus has been widely discussed. Ghana has begun a substantial expanded contact tracing effort, with over 170,000 people having been tested thus far. This article focuses on notable Ghanaian celebrities and government leaders who have tested positive with the virus and informed the public about their findings, regardless of their status.
OSEI KUFUOR BICE
Bice Osei Kuffuor, popularly known as Obour, is a former president of the Ghanaian Musicians Union. After coming into contact with his late father, Nana Osei Boansi Kuffour, a chief of Asante Dwaso, the singer and politician tested for the virus. All family members who had contact with the father were required to be isolated, however they all tested negative for the virus.
GIFTY ANTI
Oheneyere Gifty Anti, a television host, likewise proved negative after her first and second coronavirus (COVID-19) tests. After returning from the United Kingdom (UK) in April, the well-known on-screen star got the procedure. Gifty Anti, on the other hand, insisted that she was still taking precautions and would be subjected to more testing and glory be to God she is fine now after testing negative at long last.
HON KWAKU AGYEMANG MANU
Last Thursday, the Republic of Ghana's Minister of Health tested positive for coronavirus. The revelation began as rumors on social media, but the minister apparently assured journalist Afia Pokua that he had not tested positive and was only resting in the hospital. During his 11th Address to the Nation on Ghana Coronavirus Response, President Nana Addo Danquah Akkufo Addo stated that the Minister had tested positive. At the moment, the minister is seeking medical help at the University of Ghana Medical Centre. According to reports, the Member of Parliament for Dormaa Central in Ghana's Bono Region was on the mend and in a stable condition. He has been the Member of Parliament for Dormaa West and Central for two terms and is presently in his third term.
ELIKEM KUMORDZIE 
After being placed under strict quarantine, celebrity tailor Elikem Kumordzie was also tested for the virus. After a 14-day quarantine, the Big Brother contestants' results came back negative. Kumordzie instantly informed his admirers via social media after receiving the results.
PAPA OWUSU ANKOMAH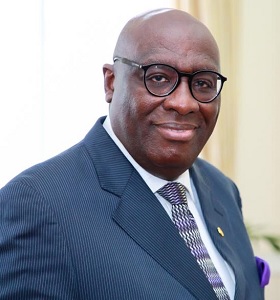 Papa Owusu Ankomah, Ghana's High Commissioner to the United Kingdom and Ireland, has been diagnosed with the new coronavirus. According to reports, Mr. Owusu Ankomah tested positive for the Covid-19 on Friday, April 10, 2020, and was admitted to a London hospital's Intensive Care Unit.
Since then, the politician has recovered from the infection.
Since June 2017, Papa Owusu Ankomah has served as Ghana's High Commissioner to the United Kingdom and Republic of Ireland.
Gary Al-Smith, a sports writer with multimedia Group Limited, is the most recent. He was one of five employees at the media company's Accra headquarters who tested positive for the sickness yesterday but remain asymptomatic. The Journalist has been separated from the other four persons. The company's management has recently issued a statement saying that the positive cases detected at its Accra headquarters were detected through contact tracing by the Ghana Health Service (GHS).
Gary went public with his status on Facebook, ostensibly to combat stigmatization. He is determined to be Ghana's ambassador against the stigmatization of COVID-19 positive people. Although there are allegations that other members of the Parliamentary press corps have tested positive for the virus, he is the first Ghanaian journalist to officially reveal his condition.
DR.DSANE-SELBY
Dr. Dsane-Selby, the head of Ghana's Health Insurance Authority, NHIA, said on Monday that she had tested positive for COVID-19 as well. She stated she decided to test after she began to feel exhausted, have body problems, and headaches. She has placed herself in self-isolation in order to avoid spreading the illness to others. She is the fourth official in the federal administration to test positive for COVID-19.
Others…
The examination was taken by members of Parliament, Information Minister Kojo Oppong Nkrumah, President Akufo-Addo, and the whole Jubilee House staff.
After arriving in Ghana a few days ago, Sarkodie, his wife Tracy, their daughter Titi, and their newborn baby were in self-isolation awaiting testing, God being so good they came out negative.