Last Updated on July 14, 2021 by MyGh.Online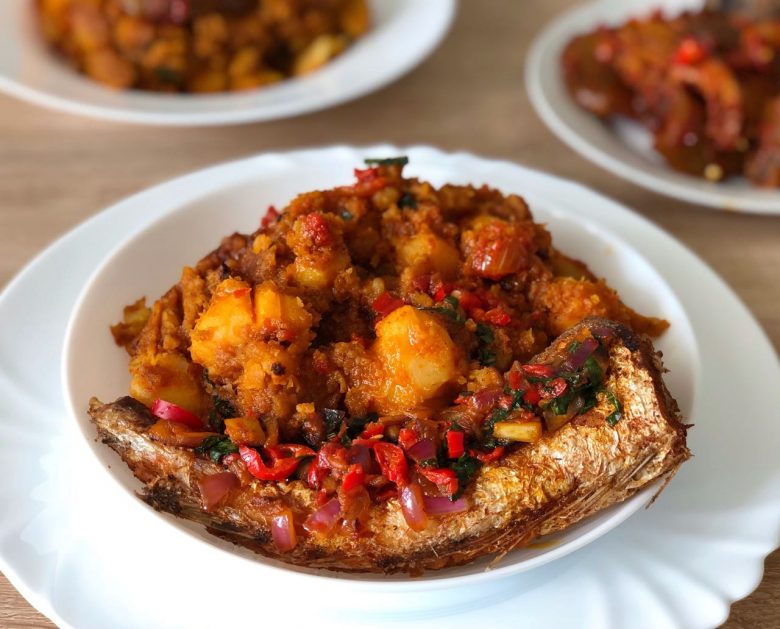 Sweet potato porridge is a delicious, meal, just one the things you can do with potatoes.
Cooking time
1 hour
Recipe category
Main meal
Recipe cuisine
Local
Cooking method
Stewing
Recipe Yield
6 servings
4 potatoes
1/2 a fresh tomato
1 small red bell pepper
1/4 cup of grounded crayfish
5 large fresh prawns
Bouillon (maggi) cubes
Onions
Beef
Spinach
Vegetable/Canola/Olive oil
Salt and Pepper to taste
Ingredients
Cut beef and prawns into little cubes and boil with seasonings of your choice.
Wash and blend fresh tomato, red bell pepper and onions.
Set pot on medium heat, add canola oil to the pot and let it heat up.
Add a pinch of salt to the hot oil and add cut onions.
Add your blended tomato paste to the hot oil.
Add salt, pepper, bouillon cubes, a little water and crayfish to the tomato paste and allow to cook.
Peel potatoes and cut into bite size cubes.
Let the tomato paste cook for close to 15 minutes. Add more water if needed.
Add your boiled meat and potatoes to the sauce.
Allow potatoes to completely cook then add your spinach, stir and turn off heat.
Serve hot!
https://www.pulse.ng/lifestyle/food-travel/sweet-potato-porridge-how-to-prepare-this-dish/n28gf5j