Women Talk Sex: Why are Nigerian men so loud and ignorant about women's bodies?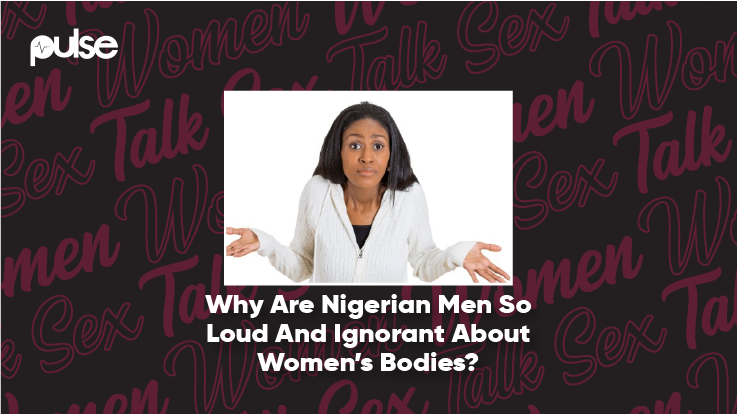 This week, our subjects focus on how mightily ignorant and vocal a lot of people [read as men] are concerning what the female body looks like, and how it works. The question they simply can't help asking is: why?
When and how did you first become aware of sex?
Lol. That has to be when I was 17 I think. I guess you can say I just knew about it and wanted to do it so I can't particularly remember the first time I heard about it or became curious about it. But what I do remember, though, was the first time I did it.
I was 17 at the time and I was with my first ever boyfriend. I wanted to do it, and we did.
Oh, it was nice. But that could have been because I wasn't thinking much of it. To be frank, while we were doing it, all I had in my head was "oh my God, I'm losing my virginity." LOL.
So how happy or unhappy are you with your sex life now?
Men are scarce in Lagos. LOL. So there's that. But my sex life is actually not that bad or anything. It's great but it's not as lit as I had while I was in England because… I don't know, I just do it with fewer men and I am a bit more cautious now. And maybe I just really don't care as much.
Let's talk about Okafor's Law: what are your thoughts on it? Rubbish or there's some truth in it?
Oh, I really can't remember what that means.
Ok. Let me rephrase: have you ever been dickmatised?
Lmaoooo. That! Oh, yeah. I would say, I have. I mean, I definitely have come close to that. This thing happens, you know. [A previous subject spoke at length on her dickmatisation experience here.]
On the flip side, has there ever been anyone pussy-whipped by you?
Honestly, when I have this type of vagina, I'm gonna be so, so happy. Because I really don't think I can relate to this.
How would you rate your sex skills though?
I think I'm a six. Nothing fancy. Just a 6.
Your most embarrassing sex moment?
Oh, this. This has to be when my wig fell off one time like that. Yeah. I think this is it. But I'm all grown and I don't consider it as embarrassing anymore.
What's one fantasy you'd love to try but haven't been able to?
Oh. This has to be doggy. It is so so overrated. Wonder what the noise and fuss on it is always about.
How would you rate Nigerian men over 10?
A strong 7. I'll rate them a 7.
And what is the most uninformed opinion you've heard from a man concerning women's bodies?
Oh. So many of this, fam. So many. Especially the part about saggy tits. Men like to talk a lot about this and it's so rubbish in my honest opinion.
At this point, it is important to list what some other women said when I asked them about men and unsolicited [and often silly] opinions about women's bodies. Everything below this line is a rubbish opinion that a Nigerian woman has heard from a Nigerian man.
Man says rubbish about 'wide' vaginas
I've heard a guy say "this woman own [vagina] no hot like the other girl own," whatever the hell that means. And then he tried to link that to how loose one woman was compared to the other and I was just there like 'what has that got to do with anything?' Some men are really just dumb. It's irritating. [This woman's story is actually about experiencing abuse and learning to find pleasure in future sexual experiences. Read more here]
A dumb take about the clit
A woman with a big clit has sex a lot. And that a woman's clit doesn't stop growing. [This woman has a personal story about how needless penetrative sex is. She tells it here]
Something about virginity
Ugh! That has to be the very ignorant idea that a virgin must bleed. Kill a chicken if you want to see blood. [This one is culled from the episode where we asked about catching orgasms while dodging STIs. Read here]
Everything men say about the female body has comma inside
I once had this guy who said that if I slept with someone with a bigger penis than his, that my vagina would expand and if it was with someone with a smaller dick than his, my vagina would contract. Right off the bat, I knew he was saying rubbish even though I was fairly young at the time. I was 18. I've actually heard a lot of rubbish from men about women's bodies. In fact, I don't think there's anything a man has said about a woman's body that there was no comma inside. [Her story is about the double hoe phase of a Nigerian woman and what really happened in them. Read here]
Liked this edition of Women Talk Sex? There's more where it came from. Just click HERE and check back every Friday for more stories.
https://www.pulse.ng/lifestyle/relationships-weddings/women-talk-sex-why-are-nigerian-men-so-loud-and-ignorant-about-womens-bodies/erj183z
Why is paternity fraud high in Nigeria? The answer to this is complex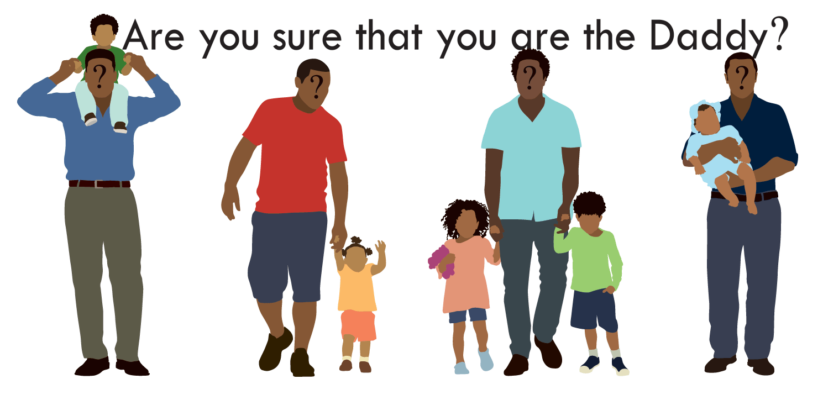 In 2015, Mike tied the knot with his longtime girlfriend. Shortly after, they gave birth to a bouncing baby girl.
Mike's marriage could have been a fairy tale, but two years later, through a series of unfortunate events, Mike found out that the child he called his daughter wasn't his. His world crashed in an instant.
To deal with the pain of knowing that the little girl in his house wasn't his, he moved to South Africa.
While Mike found out early on in his marriage, some men, unfortunately, discover that they have raised another man's child much late in their lives.
In February 2017, a Nigerian man identified as Oscar found out that 32-year-old Valentine wasn't his biological son. The clip was from the Jeremy Kyle Show in the United Kingdom which later went viral.
The two stories above are examples of paternity fraud.
Paternity fraud is when a mother deliberately misidentifies her partner as the biological father of her child. If you let the Internet tell it, paternity fraud is high in Nigeria backed up with unverified stats.
This leads Pulse to ask an expert if paternity fraud is truly high or is it one of the fake news stories online.
Fake News?

"Nigeria ranks high in paternity fraud. The current statistic for this puts Nigeria as the second highest in the world with around 30% of cases of paternity fraud in the population" Abasi Ene-Obong, CEO and Co-founder of Stack Diagnostics tells Pulse.
The 30% statistic (or 3 out of 10 Nigerian fathers) is not new. Within the last couple of years, this statistic has bubbled to the surface in social media conversations.
While experts believe that paternity fraud is high in Nigeria, there is a problem holding on to the 30% data as the gospel truth.
Ene-Obong explains further, "As with most health-based statistics in Nigeria, they are either under-reported or exaggerated because the problem typically lies in how the sample is collected. It is possible that there was some sampling bias to this 30% number but even for sampling biases, that number is quite high."
For now, 30% is what we have to work with. "We can't actually be sure of this. It is a possibility if you take the study at face value because 30% equates to 3 out of 10" says Ene-Obong.
According to him "it isn't fake news but at the same time, the only way we can know for sure is if an independent study is done that seeks to eliminate sampling biases.
"In other words, the only study we have about this phenomenon puts it at 3 out of 10, so to a large extent that is factual. An independent study that shows us less or more will also be factual and will dispel the 30% number."
Why is paternity fraud high?

"I won't comment on whether spouses cheat or not. But I will say access to paternity tests in Nigeria is very limited, and where available, costs are high. This certainly enables paternity fraud" explains Ene-Obong.
A paternity test at Diagnose Me, a genetic and specialist service provider in Africa, goes for N80,000 ($220.06). With this high cost, male partners and husbands do not necessarily consider doing paternity tests for their kids until the need arises.
And when does this need arise?
Paternity tests in Nigeria are usually done for immigration reasons, health reasons or when there is a clear indication or strong suspicion that a female partner or wife has been unfaithful.
As sensationalist as it sounds, paternity fraud is caused by women who cheat on their husbands. Yet, there is a dissatisfaction with this answer to a phenomenon that suspiciously feels multi-layered.
In troll fashion, some have been quick to point at a shady news article from 2012 that claims that Nigerian women are the most unfaithful in the world. The reported survey was allegedly carried out by Durex, the famous condom brand.
Pulse has reached out to Durex to confirm if the reported survey is true. Durex is yet to respond.
Dr. Abiodun Salami, Chief Medical Director, DNA Centre, Lagos in an interview with Vanguard in 2012 gave his reasons why paternity fraud is high in Nigeria.
"Recent trends in sexual health especially in Nigeria suggest that unprotected sex and multiple partners' relationships are a common occurrence. Another issue is poor family planning among women. Most first born pregnancies are still unplanned" he says.
Salami further says "I have seen and discussed with women who for one reason or other decide in their own wisdom to give another man's child to their husbands without the husband's knowledge."
A 2018 global family planning report by International Conference on Family Planning (ICFP), Nigeria has recorded over 1.3 million unwanted pregnancies this year so far.
Also, only 13.8% of Nigerian women use contraceptives in the year under review.
A Nigerian feminist by the name of Damilola Marcus offers a complex mix of reasons for the paternity fraud phenomenon in the country.
"It might be tied to our very strong cultural inclination towards reproduction and lineage longevity. Expanding the family unit as a prerequisite for social acceptance may be a cause.
"Our criminalisation of abortion may be an added factor… It may lead to more people having to find other ways to deal with pregnancy as a complication from infidelity or fornication (sex outside of marriage)… which means it can also be linked with pressure on women to marry and procreate only within marriage as well as be linked to our obsession with purity culture particularly in women" she says.
Marcus offers another reason for paternity fraud in Nigeria. "It can also be linked with women's predisposition by socialisation to protect men's reputation added to our ignorance of reproductive issues.
"We basically have women protecting their husband's 'masculinity' by giving him a child that isn't his. Our stigmatisation of adoption is also a factor."
The study also found that the possible major causes are poorly treated sexually transmitted infections (STIs) and hormonal abnormalities, consumption of excessive alcohol and tobacco smoking.
Dr Abayomi Ajayi, a consultant obstetrician/gynaecologist told news website Leadership that "12% of men who visit clinics in Nigeria do not have sperm even though they have semen."
A storyline of many Nollywood home videos, some women whose husbands are infertile step out of their marital homes to get pregnant. This is done so as to protect their husband's reputation as fertile studs.
In Africa, when a couple struggles to give birth, the wife is considered to be barren first. That a man might be shooting blanks is an afterthought that is usually whispered.
Even with advances in medical science, the patriarchal African society still considers it a taboo to speak about a man coming up in short in the baby making department.
With an immense pressure of Nigerian women to display the 'fruit of her womb', some get other men to do deliver the goods.
The underlying factor in this topic is cheating. While Nigeria's patriarchal society might raise pitchforks and want to slam adulterous Nigerian women, we have to know that cheating is not only exclusive to them.
Nigerian men cheat too and if you let Nigerian women tell it, a whole lot. The phrases 'men are scum' and 'Yoruba demon' were birthed from the philandering ways of Nigerian men.
Even men in marriages are not seemingly held back by their vows. On Twitter NG, single ladies bemoan how married Nigerian men slide into their DMs frequently.
Men, who normally don't get reprimanded for cheating, are not life bearers and pregnancy is not an outcome of their adulterous ways. For women who step out of their marriage, pregnancy is a very possible outcome.
"Focusing on just the transgressions of women is purely patriarchal. Does this mean what these wives have done is justifiable? No. But if we are stressing the issue of paternity fraud then we should express equal outrage on Nigerian husbands who cheat too" 26-year-old Teni (not real name), an accountant tells Pulse.
Should you have paternity tests done on your children?
Abasi Ene-Obong offers his advice. "Love is the key and if there's anything possibly standing in the way of giving love to your children you should remove it. Sometimes that thing is doubt that the child is really yours.
"Some men love their children regardless and a paternity test won't change that. The biological father isn't always the same thing as a father, and what children really need is just 'father'.
This might be easier said than done.
https://www.pulse.ng/lifestyle/relationships-weddings/why-is-paternity-fraud-high-in-nigeria-the-answer-to-this-is-complex/9mhtty0